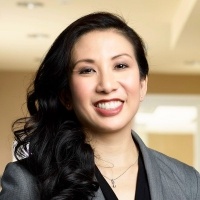 J.D., Pepperdine University School of Law
B.A., University of La Verne
Wendy Lau currently serves as one of two Risk Management Leads for the US West Region for AECOM, a premier global Fortune 500 infrastructure firm. In this position, Wendy is engaged in the evaluation and mitigation of risk of potential pursuits and actively assists business lines and teams with the management of risks throughout the lifetime of a project. Prior to working for AECOM, Wendy was a partner at Wood Smith Henning & Berman, LLP, a national law firm with offices across the country. For over sixteen years, Wendy served as legal counsel to hundreds of companies ranging from local start-ups to multi-million dollar national corporations. Her legal experience includes business transactions, contracts, construction, labor and employment, and general liability while her overall professional expertise includes strategic planning, team building, fiscal accountability, onboarding and professional development, as well as talent management and pipelining. Wendy is also very engaged in Equity, Diversity, and Inclusion efforts and serves as the ED&I and Mentoring Lead for AECOM's US West Region, a member of the Corporate ED&I Core Team, and the President of the Women's Employee Resource Group . Wendy's volunteer responsibilities include serving as a Trustee for the University of La Verne, as the Grand Vice Archon – Finance on Phi Sigma Sigma Fraternity's Board of Directors, and as a Council member for the City of La Verne.