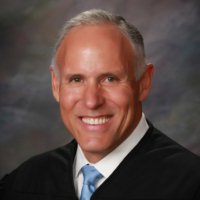 Victor Martinez
College of Law and Public Service
Victor Martinez is a Judge of the Los Angeles Superior Court presiding over criminal cases. He was appointed by Governor Arnold Schwarzenegger in 2010. He has spent nearly 40 years in the criminal justice field, including nearly a decade working in the Los Angeles County Sheriff's Department. As an attorney he worked in the Public Defender and Alternate Public Defender offices in Los Angeles County, until he was appointed as a judge.
Judge Martinez is a highly experienced instructor having taught numerous classes to attorneys and judges throughout his career. He is regularly called upon to teach judicial officers in classes on jury trials, jury instructions, jury selection, criminal fines and fees, search and seizure and a number of computer related classes both locally and statewide.
As an adjunct professor with the University of La Verne College of Law and Public Service he has been called upon to teach trial advocacy and jury selection classes.
Educational Background
J.D, Western State University, College of Law and Public Service
B.S.L., Western State University, College of Law and Public Service
---
To explore the scholarship and creative works of University of La Verne faculty, please visit the Research Works profiles hosted by Wilson Library.