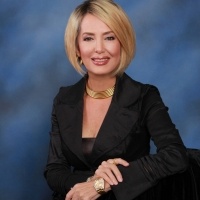 J.D., University of La Verne College of Law
B.A., Hofstra University
Soheila Azizi has been practicing law in Los Angeles and the Inland Empire for more than 20 years. Her firm, The Law Offices of Soheila S. Azizi, is primarily a family law practice and handles related custody and support cases. Ms. Azizi currently serves on the panel of mediators for Inland Valley Arbitration and Mediation Services (IVJC), in Rancho Cucamonga, California.  She served as Judge Pro Tern in the Small Claims Court and as Settlement Officer in the Family Law Court of San Bernardino County. She is the founders of CAMS (California Arbitration & Mediation Services, and the cofounder and a board member of Women on the Move Network and the Upland Interfaith Council.  Ms. Azizi also serves as President of Upland Interfaith Council and Vice President of Upland Spirituality Assembly.