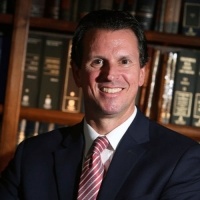 Jason Anderson
College of Law and Public Service
Jason Anderson was elected by the people of San Bernardino County on June 5, 2018, as the 36th District Attorney of San Bernardino County. He has been a member of the California State Bar since 1997.
Mr. Anderson served as a deputy district attorney for the County of San Bernardino from 1998 until 2014. In this capacity, he worked as a prosecutor handling a variety of serious cases, particularly in the crimes against children unit for thirteen years. In 2014, he entered the private practice of law in Rancho Cucamonga. Since 2004, Mr. Anderson has been an adjunct professor of law teaching a Criminal Procedure and Trial Advocacy Class at the University of La Verne College of Law and Public Service.
In 2008, he received the Jennifer Brooks Lawyer Of The Year Award from the Western San Bernardino County Bar Association. In 2012, he received the Above and Beyond Award from the National Crime Survivors Organization for his work on behalf of victims of crime. In 2018, Mr. Anderson received the George W. Porter Criminal Trial Attorney Award from the San Bernardino County Bar Association.
---
To explore the scholarship and creative works of University of La Verne faculty, please visit the Research Works profiles hosted by Wilson Library.