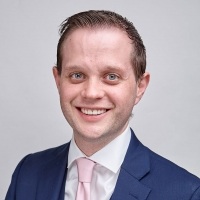 James Blucker
Office: (909) 684-5454
College of Law and Public Service
A native of Southern California, James M. Blucker completed his law degree at the University of La Verne College of Law and Public Service, earning academic accolades including Dean's List and many CALI awards commemorating that he earned the highest grade of those courses. After graduating cum laude in the top 10% of his class and passing the California Bar on his first attempt, Mr. Blucker opened his own practice, The Law Office of James M. Blucker shortly thereafter in 2016. The law firm focuses on corporate counsel work, including real estate negotiations, representation for landlords in unlawful detainers, business entity formations and HOA representation. Additionally, he assists property managers in guidance through landlord-tenant laws to assure compliance with the law. Outside of real estate law, the law office also focuses on criminal defense post-conviction relief relating to expungements and arrest record sealing, various aspects of business law, and general estate planning.
The real estate field has always been a personal passion of his from an early age. Since his late teen's, Mr. Blucker has been involved with acquisition, development, and investing deals relating to both commercial and residential real estate. Mr. Blucker sought a career within real estate law to advocate for those that had experienced complicated real estate issues, including himself. His inquisitiveness and self-starting abilities helped guide him to where he is at today.
Prior to opening his own firm, Mr. Blucker volunteered at self-help clinics alongside Mr. Baldwin, assisting with low-income litigants related to family law and tenant rights. With a prior background in real estate and trust management, Mr. Blucker continues to focus and evolve within real estate law specialties. When Mr. Blucker is not working, he enjoys spending time with his wife, Emily, enjoying the outdoors scenery consisting of hiking at various places throughout the southern California region, golfing and traveling the world when time permits.
To get in touch with Mr. Blucker you can email him at james@bluckerlaw.com or call the firm's phone number, (909) 684-5454.
Educational Background
University of La Verne, B.S.  – Business Administration
University of La Verne, J.D. – Juris Doctor
Additional Information
Professional Affiliations
Western San Bernardino County Bar Association
Riverside County Bar Association
The Federalist Society for Law and Public Policy Studies
Lincoln Club of San Bernardino County
---
To explore the scholarship and creative works of University of La Verne faculty, please visit the Research Works profiles hosted by Wilson Library.